Top Story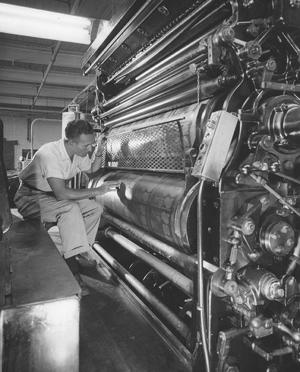 A new exhibit will display a colorful and unorthodox part of Bedford's history.
Recent Headlines
Wednesday 09/19/2018
Posted: September 19, 2018

FCPL celebrates hound dogs
Posted: September 19, 2018

We all know that our success in becoming fit and healthy has much to do with our diet. Actual weight loss success is about 85 percent, and so with that said, I am passing on to you one my absolute go-to salad recipes. I'm not sure exactly who to give credit to for this deliciousness, but I acquired this recipe through my husband's sister-in-law years ago. A fantastic side dish to go with any meal, whether it be steak, chicken or fish. You won't be disappointed.
Updated: September 19, 2018 - 2:11 pm

"I think one of the most pervasive evils in this world is greed and acquiring money for money's sake. Once you have six houses and a plane, it's just about a number. It's never been anything I understood." - Kevin Bacon (Actor)
Wednesday 09/12/2018
Posted: September 12, 2018

When you think of gym equipment, you more than likely think of treadmills, dumbbells, barbells and large iron-structured equipment, but if you want to change up your workout and incorporate a challenging yet fun fat-burning, full body workout, pick up some ropes. The battle rope has quickly become one my personal favorite go-to exercises.
Posted: September 12, 2018

On a recent radio show, the host described ripening tomatoes as an approaching "glacier." Anyone who farmed in the Road days during the 1940's, knows what he meant. We're not talking about garden tomatoes, we're referring to field tomatoes — or "'maters" as we named them. Moreover, the term "Red Tide" is a better metaphor than glacier.
Saturday 09/01/2018
Updated: September 12, 2018 - 12:16 pm

As other members lifted small weights, Moneta Athletic Club member Sandra Creasy hit the treadmill.
Thursday 08/30/2018
Updated: September 12, 2018 - 12:16 pm

A program that aims to keep the musical traditions of Appalachia alive is seeking students for upcoming lessons.
Wednesday 08/29/2018
Updated: September 12, 2018 - 12:16 pm

Moneta firm Lyons Team Realtors received national attention this summer after appearing on an episode of the HGTV series "My Lottery Dream Home."
Other Womack Publishing Company websites include: wpcva.com, aconews.com, vancnews.com, and montgomeryherald.com