Top Story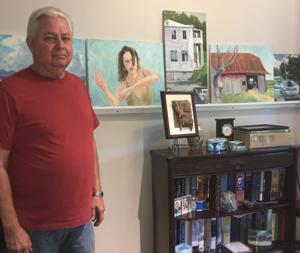 A sailboat with a view of Smith Mountain awaits the finishing touches inside the studio of artist and lake resident Dana Phillips.
Recent Headlines
Wednesday 10/17/2018
Posted: October 17, 2018

An effort to bring a new trail to Westlake is getting a major push forward.
Wednesday 10/03/2018
Posted: October 03, 2018

By Pastor Troy Keaton
Updated: October 08, 2018 - 1:03 pm

The Bedford Community Christmas Station will hold a "Name Your Price" sale Oct. 9-13 to clear its shelves and racks in preparation for the Christmas season.
Wednesday 09/26/2018
Updated: October 08, 2018 - 1:03 pm

We all have times when we just don't feel like going to the gym or doing anything for that matter. As you know, this isn't a new topic to my articles, and I hope each of my articles provides a little inspiration to get moving. This time, though, I thought I would give you some specific ideas to help you to accomplish the hardest lift of all – lifting your butt off the couch!
Wednesday 09/19/2018
Updated: September 26, 2018 - 10:19 am

A new exhibit will display a colorful and unorthodox part of Bedford's history.
Posted: September 19, 2018

FCPL celebrates hound dogs
Posted: September 19, 2018

We all know that our success in becoming fit and healthy has much to do with our diet. Actual weight loss success is about 85 percent, and so with that said, I am passing on to you one my absolute go-to salad recipes. I'm not sure exactly who to give credit to for this deliciousness, but I acquired this recipe through my husband's sister-in-law years ago. A fantastic side dish to go with any meal, whether it be steak, chicken or fish. You won't be disappointed.
Updated: September 26, 2018 - 10:19 am

"I think one of the most pervasive evils in this world is greed and acquiring money for money's sake. Once you have six houses and a plane, it's just about a number. It's never been anything I understood." - Kevin Bacon (Actor)
Other Womack Publishing Company websites include: wpcva.com, aconews.com, vancnews.com, and montgomeryherald.com